The Best of PUNK Magazine Book Is Here!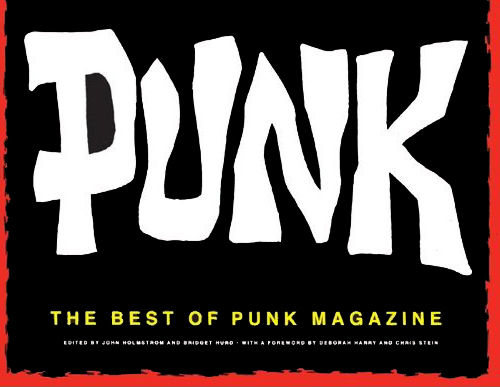 "The Best of PUNK Magazine" book is taking the world by storm!

Social media is going nuts!
You can like us on Facebook! ☞


The book reviewers all love it!

"...the best part of PUNK was its merciless humor." - The New York Times

"Few have earned the term 'punk pioneer' like John Holmstrom..." - NY Post

"I love it..." - Vanity Fair

Pictoral - The Daily Beast

"The Best of Punk is a funny, visually-stimulating time capsule commemorating the first music periodical of its kind..." - Cleveland Examiner

...and a whole lot more!

Publishers Weekly • Channel Four in England • Breakthru TV • USA Today
Soundcheck WNYC Radio • Houston Press • ComicMix • Stupefaction • Let Them Talk • Capital NY • Jari-Pekka Laitio's Ramones Website • Hyperallergenic • East Villager

BUY IT NOW:
It's Super-Cheap! GRABBIT at these prices, the book probably won't be available at these low prices for long. BUY IT NOW!
We've received hundreds of requests over the years to make PUNK magazine material more accessible, and now it has finally happened!
Five Years in the making!
Featuring truly the BEST of PUNK Magazine, the world's greatest fanzine!
PLUS: Behind-the-scenes stories about every single issue, with dozens of unpublished photos and drawings.
Even if you own the original magazines, you'll wanna buy this book.
Wait, scratch that: ESPECIALLY if you own those original magazines, you're gonna want this book!
Here are just a few of the exclusive stories in our book:
MUTANT MONSTER BEACH PARTY
This is the most popular feature in PUNK Mag history! This feature-length fumetti starring Joey Ramone, Debbie Harry, Andy Warhol, Peter Wolf and a cast of dozens has been painstakingly restored and, thanks to the superior printing by IT! Books, looks way, way better than the original magazine!
THE LEGEND OF NICK DETROIT
This is the other most popular feature in PUNK Mag history! Why not? Starring Richard Hell (who turns in a star performance), it also features David Johansen, Bob Quine, Legs McNeil, Anya Philips, Debbie Harry, Robert Romagnoli, Judy LaPilusa, Lenny Kaye and a whole bunch of CBGB bands (like Talking Heads and Tuff Darts). And again, the reproduction here is much better than the original magazine.
ROCK 'N' ROLL HIGH SCHOOL
This never-before-published interview with Joey Ramone includes dozens of photos taken by Joey himself during the shooting of what has been called Roger Corman's favorite film (of all the movie he ever produced!)!!! Many in color!
THE LOU REED INTERVIEW
These four pages put PUNK magazine on the map! It's hilarious! It's interesting! And now, it's a part of history. Lou Reed at his best, and his worst. With photos and illustrations!
THE JOHNNY ROTTEN INTERVIEW
& THE SEX PISTOLS 1978 U.S. TOUR
The Johnny Rotten Interview, by Mary Harron (with photos by Bob Gruen), was ground-breaking. He never was as candid as he was here, when the band was recording their first single.

The story about that weird, bizarre and totally crazy Sex Pistols 1978 U.S. tour was named "the definitive story" for good reason! It is packed with great tour stories and amazing photos. If you are a Sex Pistols fan, you need this book.
THE STORY OF PUNK MAGAZINE
What happened to Number Nine? What was the PUNK Magazine 1977 Benefit at CBGB like? How, exactly, did Ged Dunn Jr., Legs McNeil and John Holmstrom get together and establish the Punk Dump and publish those early issues? It's here. It's ALL here. Warts, moles, pimples and all.
ALSO: The Blondie centerfold photos, the Niagara (Destroy All Monsters) centerfold photos; the Ramones centerfold from PUNK #1; The Iggy Pop interview from PUNK #4; The Eddie and the Hot Rods Interview from PUNK #7; The Best of Robert Romagnoli; R. Crumb's Helen Wheels drawing; the Patti Smith Interview from PUNK #2; the John Cale Interview from PUNK #11; Buz Vaukltz's artwork; the Dorian Zero, Edie Massey and AC/DC Interviews from PUNK #14; and those fabulous Talking Tits! And so much more.
The book is oversized, printed on excellent paper stock, and produced with painstaking attention to detail. It's a beautiful work of art. It is guaranteed to become a collector's item, just like PUNK Magazine back issues. Even PUNK #21, published in 2006, is now a sought-after collectible, selling on eBay for twice the rpice it was available for just a few years ago. So a first-edition "Best of PUNK Magazine" book probably won't be much different.
Five years from now, don't say we didn't warn you is what we're sayin'... It just seems that, even though we don't try to make limited edition collectibles? They just seem to happen. Got that? And here's your opportunity to make it worth more than it weight (1.1 pounds, BTW), in gold!