PHOTOS by Holmstrom

---
Click any thumbanail
to see larger photo


Dee Dee & Crowd


Dee Dee Ramone



Dee Dee live


Dee Dee signing


Dee Dee smiles


The place is packed

Dee Dee Ramone's Chelsea Horror Hotel Book Signing
by John Holmstrom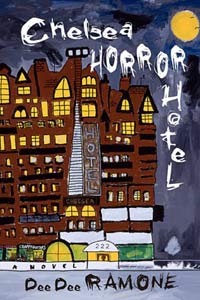 Dee Dee Ramone made a low-key, barely-publicized book-signing appearance at the Lakeside Lounge (Avenue B above 10th Street in New York City's East Village) on June 8th between 6:00 p.m. and 9:00 p.m. First he autographed copies of his new book, Chelsea Horror Hotel, for about 100-150 people. Then he played a short set of (mostly) Ramones songs (with a NY Dolls cover and a few others thrown in) for the small but packed and enthusiastic house.
Dee Dee was in great spirits, really pleasant to everyone, and put on a great show. He later appeared at Spa Club, but had the bad luck to play one day after the New York Post ran a story about a cyber-sex show performance that had taken place there a few days ago, so they were being especially tough at the door.
Chelsea Horror Hotel, which is (allegedly) a work of fiction, stars Dee Dee and his wife Barbara, who move into the Chelsea Hotel with their dog Banfield (who magically communicates with his master, Dee Dee), and he's plagued by the ghosts of his dead punk rock friends like Stiv Bators, Sid Vicious and Johnny Thunders.
Dee Dee is also making canvas paintings, and a few of his works were on display. Like his fiction works (and his music), his paintings have a naîve and childish quality which contrasts sharply with the work's shocking subject matter. Dee Dee Ramone was a guy who lived out the ancient Chinese curse "May you live an interesting life," and it's amazing that's he's managed to survive, much less succeed at new avenues of self-expression.